Cryptos cooled off this week, after a strong months and a half. Here are some BLURT price charts, since it has been over a week since my last update.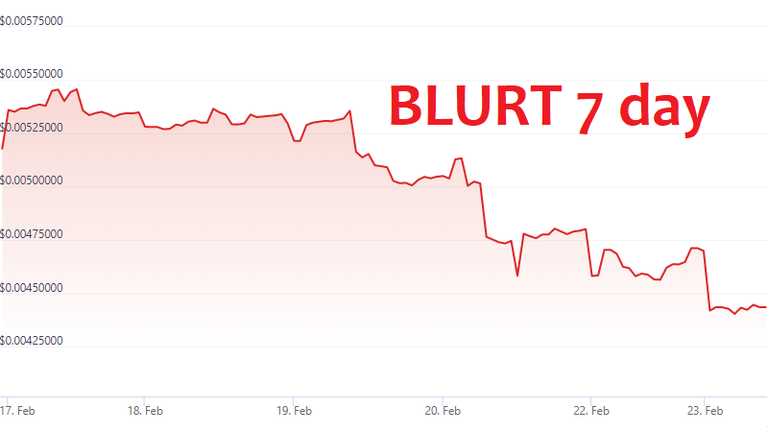 Almost 20% down this week. BLURT is a much smaller market than the other cryptos like HIVE and BTC, so when things go down, they go down harder for us. But thankfully, when things up up, they go up more for us, and we're in for a bull market over the next couple years, so this could just be a buying/earning opportunity for us.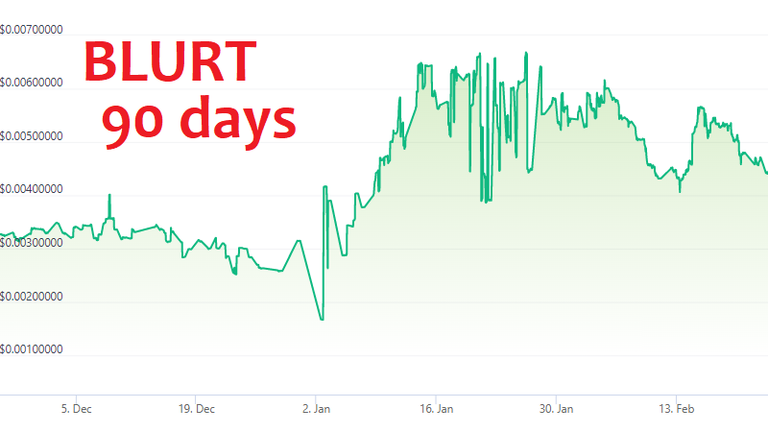 Over the past 3 months, we saw the end of the bear market (Dec 31st), some recovery up to 0.006 USD, and a month of choppy consolidation.
I expect BLURT to continue to follow Bitcoin, which is following the stock market (especially Nasdaq).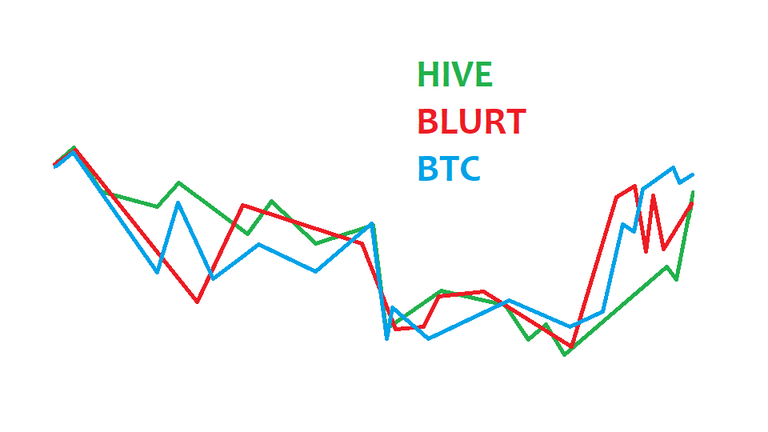 That's my analysis of 3 cryptos familiar to most Blurt users, showing BLURT follows the crypto trend. If Bitcoin pulls back to about 20,000 USD, which I expect is fairly likely, then BLURT will also drop. I do expect Bitcoin to have an extended bull run until 2024/25:
If the pattern continues, we're in for a good time!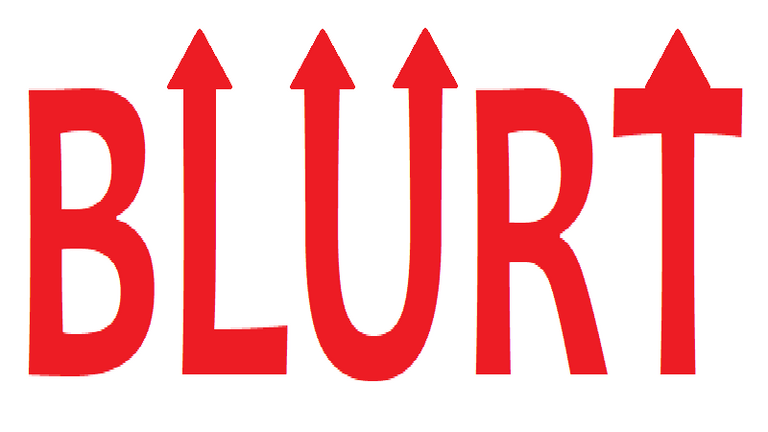 But for now, we're cooling off a little. Hopefully we don't make new all-time lows (currently the all-time low was set at 0.0016 USD seven weeks ago). If we do, I have about 500 HIVE left from my days there, and will use it to scoop up some cheap BLURT.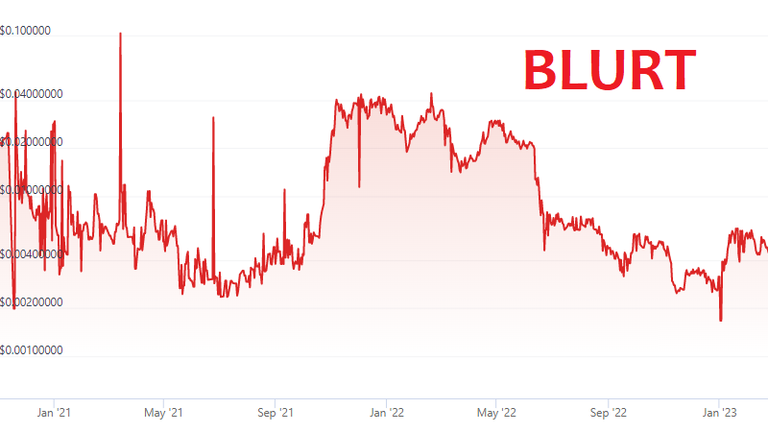 That's a logarithmic chart of the entire BLURT experience. Note the spike in 2021 to an all-time high about 100 times the all-time low.
At the current price of 0.0044 USD, if BLURT went up x25, it would still be below the all-time high. In other words, we've fallen a long way. But looking at it from another perspective, we could have a long way to go in a bull market. It's literally not unprecedented that our balances could go to 25 times higher than they are now, or more, over the next year or two.
If BLURT went up x10 from the current price, it would only be at the level it was at many times during its two year history. I think that's extremely likely, although it could take several months to a year to get there.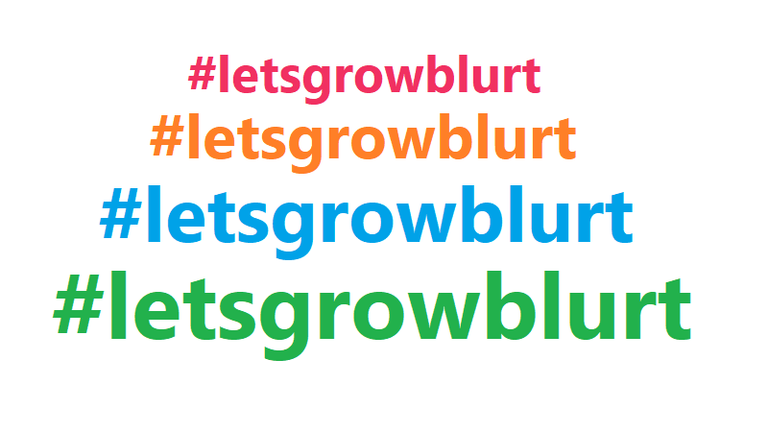 Personal goal of 1 million Blurt Power
I want to have a million BLURT powered up in the platform by the end of 2023. I set this goal on January 1st.
I was at 700k eight days ago on my last update, and I'm now at 706k.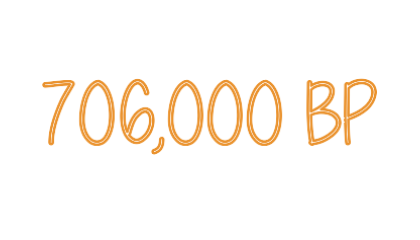 There are 311 days left in the year. To hit 1M I would need to bring in 945 BLURT per day. That's a little more than I'm currently making, including post payouts, comment payouts, curation rewards, and interest.
I don't buy votes like several of the big earners around here, who are draining income away from real content-creators like you and I. My only source of income is your manual votes on my content, and the curation rewards and interest from my investment in the platform. I hand out a lot of votes to people who comment on my posts, or who reply to comments I've made, or who post original high-quality content.
Currently, I'm the 55th most-powered-up account on this blockchain, one of the top 10 largest manual curators, and the 3rd highest earning content-creator (2nd highest if you exclude the vote-buying spammer at the top).
Can I reach my goal?
How I plan to reach 1 million this year is consistent content creation, consistent curation, and by spending more of my own money on supporting the Blurt platform. If I buy another 50,000 BLURT (perhaps if there's a pullback in price), I'll only need to earn about 770 per day to reach my goal. That's potentially doable.
I think I recently figured out how to keep the big curators happy with my content. Have a look at the votes on this post. If you see a 90% or higher vote from CTime, and a 10% or higher vote from BlurtBooster, I'm on the right track. It takes more than just those two votes to get me where I'm going, but those are a good start.
Let's grow Blurt! I hope you enjoyed the charts. Thank you for your thoughtful, insightful, and interesting comments. And thank you for your votes. Until next time!
DRutter