It has been a good day for cryptocurrency prices across the board! Bitcoin hit a fresh high, and BLURT is pushing toward a breakout. Here's a few charts: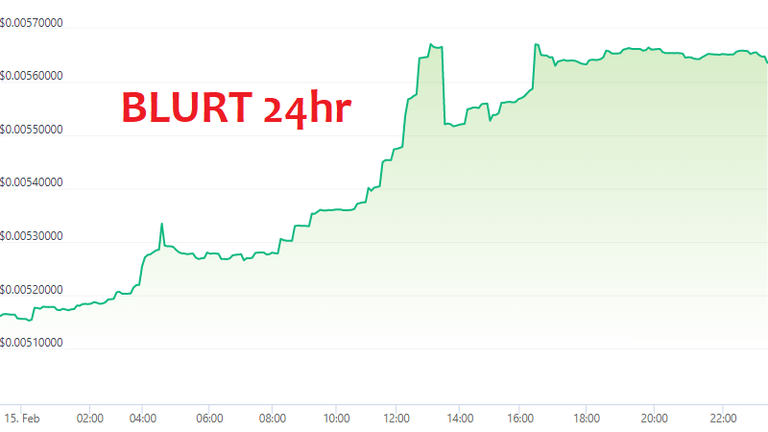 BLURT has moved up to 0.0056 USD today, erasing the gradual decline over the past 10 days. Will it give back a little? Or will it test resistance at 0.0065? A breakout above that level would be very nice.
Here's the past 3 months: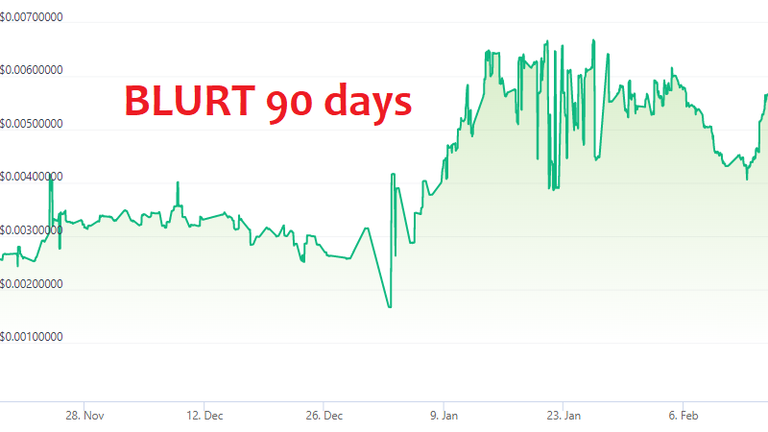 That chart shows the end of the bear market, and the start of the bull market beginning on the first day of 2023.
If the price takes out that major level of 0.0065, it could jump fairly quickly to 0.02 USD.
A reminder: Just because BLURT is up off the all-time low (six weeks ago), doesn't mean it's too late to enjoy the coming bull run. After all, even if the price went up by another factor of x20, it would STILL be below the all-time high (0.12 USD)! And it doesn't have to stop there.
It's useful to look at Bitcoin to gauge the general trend in the crypto market: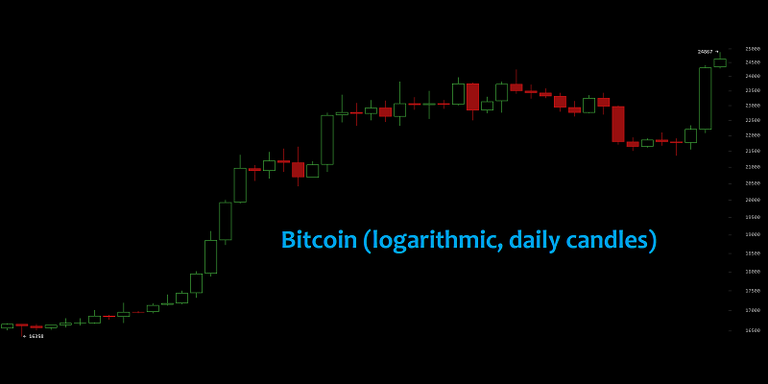 BTC broke out from a 2 week downtrend today, pushing right through to a fresh price just under 25000 USD. Glancing over the other major cryptocurrencies, it's pretty unanimous, candles are green today.
I was happy to "grand slam" the hive-engine BLURT marketplace yesterday: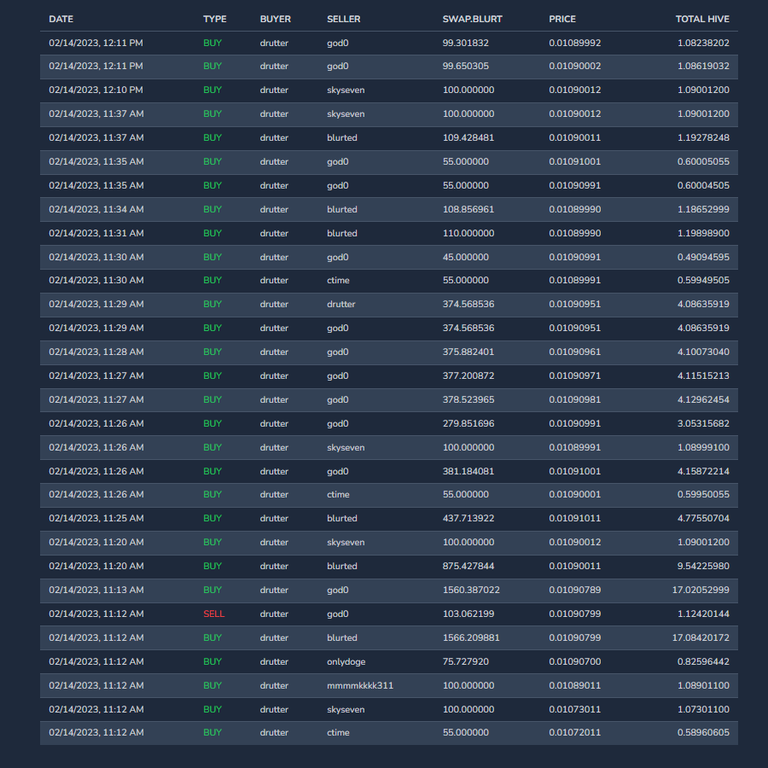 Nothing but drutter! I ended up unloading a few hundred HIVE, in favour of BLURT, bringing my total (along with recent payouts) up to 700k!

According to @eastmael (thanks for the useful stats!), I am now the 56th most powered-up account on this blockchain.
My goal, set at the start of the year, is to hit one million BP in 2023. This latest purchase has helped out.
There are 320 days left in the year, and I need to make another 300,000 BP, so I need to make 938 more on average per day. That's a bit more than my current pace, especially since I lost support from one of my main curators. But perhaps with compounding interest, increased productivity/creativity, and a bull market that grows the platform, I can make it happen!
I also have enough HIVE to grab another 75,000 BLURT should the price pull back. That would mean I only need to pull in about 700 BP per day to make my million by the end of the year.
Dreaming about 1,000,000 BLURT
Who knows at this point if I'll be able to pull off a win, but sometimes I allow myself to imagine what could happen if I did.
Say the price continues to recover from the bear market. This isn't unrealistic. Let's say it goes back to where it was a year ago. Not the all-time high, just the price it was at regularly in late 2021 and early 2022.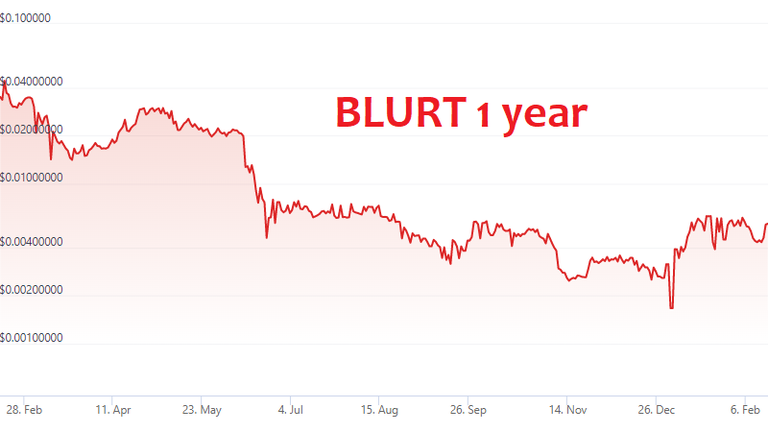 At 0.04 USD each, I'll have $40000 USD ($54000 CAD), and I'll be earning about $28 USD ($38 CAD) per day. That's almost enough to cover my family's grocery bills with my content-creation.
That's a pretty conservative "dream". Why not get a little grandiose?
In a year or two, BLURT could surpass the previous high and go to 0.25 USD each. I would have over $250000 USD ($335000 CAD), and I would be earning $250 USD ($335 CAD) per day.
Meaning, there's a chance I could pay off my debt, and my family could be on the way to owning our own house and garden. Using the proceeds of my content-creation. Just a chance, so I'm not banking on it, but I'm certainly not disregarding it either.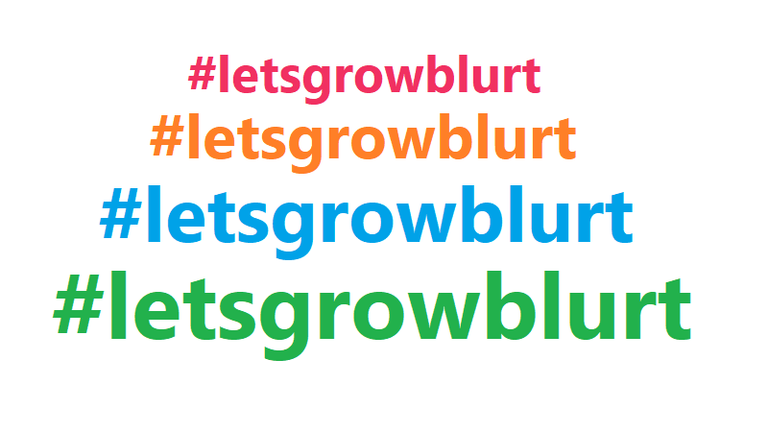 Thank you for your support! I hope you enjoyed the charts, and the dreaming. Good luck to everyone on Blurt!
DRutter