This is how I joined the half-million-BLURT club with 10 years of fulltime content-creation!

My crypto journey began back in 2011 when I learned about Bitcoin from my friend and fellow silver bullion advocate Davincij15. By 2013 I was recommending my followers learn about cryptocurrency and blockchain, and predicting the Bitcoin price would continue to rise toward $1 million. I don't invest/trade, but decided in 2016 to begin accepting Bitcoin tips for the crypto content I had been pumping out for years.
The 2017 bull market made Davinci famous, and he now travels the world blogging about crypto and making horrible price calls. My flawless Bitcoin price predictions were noticed by my subscribers, although my channel had become increasingly shadowbanned by YouTube, so that I could not find new viewers. I accumulated 0.2 BTC in tips for my content.
In 2016 my wife and I were given 2 months to find a new rental suite in the hot Vancouver market, and failed, ending up surfing couches with our stuff in storage. I wasn't able to join Steem when I first heard about it. I watched as friends and complete strangers made thousands of dollars per post, easily and with limited content. With my hard work and abilities, I knew I could succeed if I could just get a proper living situation. Finally in 2017, I began to stabilize my health and finances after finding an apartment, and began posting on Steemit full time.
In early 2018, I decided to put my money where my mouth was. I bought STEEM with my 0.2 BTC, bringing five years of earnings on YouTube onto the blogchain. I powered it up (about 600 tokens) and added it to my earnings.
That began a pattern of me making 3 to 10 posts per week, which has continued nonstop to this day. I also spend hours daily reading, curating, and commenting on other people's content. I never power down, and always power up all my earnings. In all these years, across all three chains, I've never spent a single cent, except for one purchase of a box of Ivermectin last year. Everything I make goes right back into the blockchain, powering up my future, and earning me compound interest 24/7/365. I made the blogchain my hobby AND my job, putting everything I had into it.
When Hive came along, I converted my STEEM into HIVE, and continued my content-creation. Now I was posting my content on two chains, but only curating, commenting, and investing on one. I don't earn anything there, but I see Steem as a backup of my content, and indeed, it was useful when Blurt had some unexpected downtime this summer.
I don't have any way to connect my crypto world to the default financial system, because I'm unbanked and unsmart. I can't/won't bank or use smart devices, severely limiting my options in the crypto sphere. This means I can't sell my crypto for cash, nor can I buy crypto with dollars. The only way I can get crypto is by earning it within the blogchain world. And once I earn it, I can't sell it, only spend it here in crypto-land. Only very recently have I found a way to slowly turn crypto into food, using gift card vendors that accept Bitcoin. But for all intents and purposes, my crypto and fiat lives are totally separate.
The bear market was brutal. At one point my holdings were worth only a few thousand dollars, but I never stopped grinding (earning and powering up). I was earning cents per post, but the same amount of tokens, so I just kept on trying. At some point, new bloggers came on the scene, tossing in some spare change from under the couch cushions... and would instantly be bigger than me, without making a single contribution to the blockchain. And on Hive, your wallet size matters... you can get censored and hidden robbed of your income, if richer people don't like you or your content for any reason. So it really hurt having years of accumulated effort reduced to such a tiny dollar value that anyone or their dog could come along with a couple grand and match it with the click of a button. And because I have no fiat-crypto connection, I can't just buy more. I can earn more, which is what I've been doing nonstop, but I can't buy more. That means a lower price does me no good.
So when HIVE finally started to rise in 2021, I was very excited. I had accumulated about 20,000 of them, and had finally ground my way to decent regular payouts. After years of nonstop effort without anything to show for it, I was potentially able to earn a (small) living doing what I loved, which was creating content and sharing my message! HIVE spiked to 3.4 USD very suddenly before I could figure out a way to cash out, so I began powering down around the end of the year, hoping I would be able to catch the next spike. As I powered down in early 2022, I continued to create important content, which pulled in tens of dollars per post. Victory was almost within reach.
Suddenly, the Hive downvote cabal struck. They saw me powering down, and pulling curation from "their" reward pool, and gaining in rep score (becoming harder to censor or mess with). MarkyMark and a few of his degenerate associates, Hive whale insiders protecting their golden goose, claimed I had broken some unwritten rule about self-voting, and began downvoting all my content to zero. Suddenly, I was unable to make another cent on Hive, and my reputation was being hammered downward (if it goes low enough you get grayed out and hidden etc).
I heard about Blurt from some other people who were also being bullied and censored on Hive. What a great idea! I jumped in, and started to convert my HIVE into BLURT. It looked about to explode, with Hive seemingly self-destructing. Each time there was a dip, I bought again. It took weeks, but I converted more than half my crypto holdings into BLURT at somewhere around 0.025 USD each. I poured myself into Blurt, making it my internet home base, linking all my other projects to it, bringing in subscribers from various platforms. I stopped commenting and curating on Hive, just posting a copy of my important posts there (with payout declined). The cabal watched my every move, telling me "just shut up and stop complaining or it will get worse". Blurt's lack of downvoting felt like heaven compared to that abuse.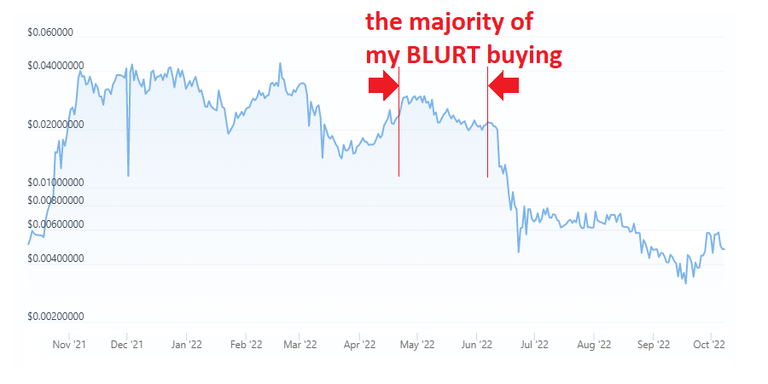 But just then, the Blurt "foundation" began upsetting the investors, who promptly pulled out their funds, crashing the price. The value of my holdings immediately lost 70%. There was nowhere for me to go. All I could do was try to avoid feeling hopeless, and keep producing content while hoping for a miracle in the future. My wife, who I have neglected for years on the promise that my work would amount to something, continues to stick by my side.
So far, the price recovery has not come. In fact, we recently saw a lower low, putting me at about a 90% loss since joining Blurt. Today, we're up to 0.0048 USD, so I'm only down about 80% on my investment here.
And so, I keep earning BLURT. I get zero payouts on Hive, and maybe a dollar per year on Steem, so Blurt is 99.99% of my income. As always, I power it all up, don't spend it, don't convert it to other cryptos. In recent months, I've sold off all my hive-engine tokens, and almost all my remaining HIVE, and put it all into BLURT at these lower prices.
I finally passed the 500,000 BP level!

A decade of full-time content-creation, savings, and even interest has amounted to 500,000 BLURT tokens. At today's price of 0.0048, my net crypto worth is... 2400 USD.
That's $240 per year.
What I've come to realize, as a simple content-creator who doesn't do trading, is that you have to be a trader if you want to make profits on the blogchain. There just isn't anything in it for the content-creators who simply save/reinvest their earnings, like me. Established creators with quality content, who instantly cash out their earnings, could make about $50 per month on BLURT at current prices. That's not nothing, but it's also not going to pay the bills.
Yes, there are people around here that are doing well, but it's not the content-creators. It's the insiders and/or the traders. Those who have the money are the ones who can make money. The rest of us are grinding our lives away for pennies, or in most cases, for nothing at all.
Last week, I pulled out $300 in grocery store gift cards, for my Crypto Lunch project. But that $300 represents about 10% of my entire crypto net worth, which means it took me ONE YEAR of full-time work, risk, and investment to earn that cart of groceries! My entire crypto net worth wouldn't even pay a single month's rent, if I could cash it out.
I like the idea of earning a living as a content-creator, but after 10 years of giving it my absolute best, it appears I don't have whatever it takes.
Okay, so, what can I do from here?
I can't move back to HIVE because I'm censored there and can't earn tokens.
I could get myself a few more carts of groceries and walk away.
I could stop posting and just save my 500k.
I could convert to Bitcoin. I would get 0.13 BTC (not even the 0.20 BTC I invested 5 years ago).
I could... well, let me know in the comment section if you have any ideas.
What I'm probably going to do, at least for now, is the same thing I've been doing all along. Grind with content, comments, and curation... accumulating more tokens in the hopes that some day they'll be worth something.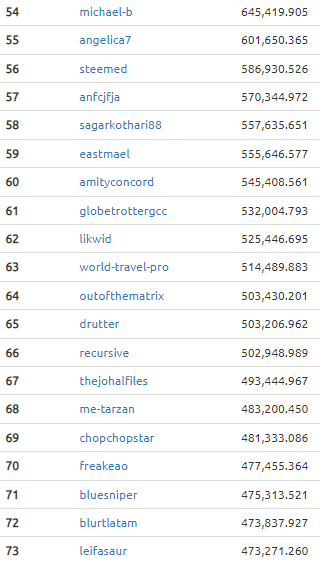 I noticed that my buddies WTP (Dan) and Outofthematrix (Tom) have a very similar number of tokens. WTP purposely stalled at this level a while ago, while Outofthematrix is buying BLURT and powering up his witness earnings. I've been dumping hundreds of votes onto both of them for several months now. It's nice to see Tom finally have some stake so he can return the favour! Perhaps the 3 of us will continue to support each other, and move as a unit up through the ranks?
If BLURT goes up, and I've posted about how it could even go x100, then my 10 years of work will have been worthwhile. That's basically my best-case scenario - to eventually get a downpayment for a house or something. It always seems like it's just around the corner, but month after month and year after year, success eludes me. I have seen friends get rich in just a few weeks of trading in cryptos. I helped dozens of people get rich by investing in Bitcoin early on. But myself, for no apparent good reason, I can't catch a lucky break no matter what I do or don't do.
This simple content-creator will keep on producing for Blurt, but my health is fading rapidly at the moment, so I don't know if I have another 10 years (or even 1) to see if this is going to play out. Besides, the world is going into financial collapse, prices for everything (except crypto!) are going through the roof. And there are major supply chain problems, such that I can't find pasta, or baby formula, or basic children's medications, or somewhere to rent, no matter how much money I have. This isn't a good time to be working on a long term plan. Taking a position and sitting on it for several years is fine... when the world's not falling apart, when nukes aren't about to fly, when food prices aren't inflating by 5% per month. This is when projects and investments need to be paying out, not requiring all my available free time without paying me anything in return.
For whatever reason - let's call it a series of unfortunate events - I have failed to turn 10 years of daily effort into either savings or income. I have nothing to show for it, and nothing coming in. I'm not even reaching people with my message - 10 years ago I had 9000 subscribers on YouTube, now I've got 108 on Blurt.

But hey, I'm sitting on a goldmine of BP, right?
Now, we've just got to convince the world that BLURT tokens are rare and useful, then the 200 of us here today will all be very happy. I can't wait! No, literally, I can't.
I think I'm going to move up North (where there is still a few places to rent), and grow a garden in Canada's tundra.
Seriously. I'll be a bit less active over the next couple months as we pack, move, and settle. If I'm still alive in the spring, and have internet for my desktop, I'll start a new Blurt series about growing food in the Arctic. If I can create thousands of articles and videos people enjoy and benefit from, with nothing to show for it, I can grow tomatoes in a snowbank. You'll see.
DRutter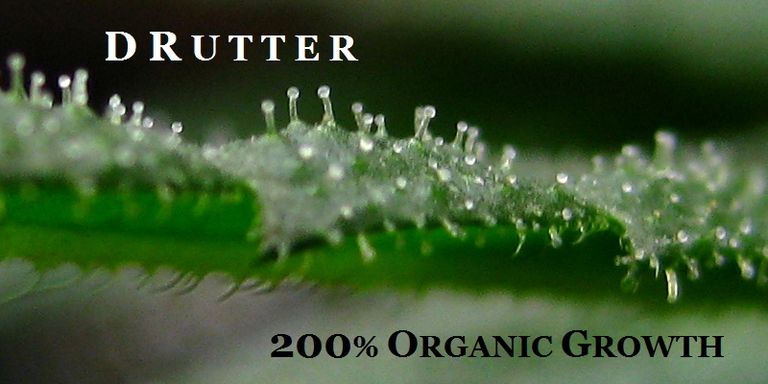 ---
Posted from https://blurtlatam.com